LATEST RELEASE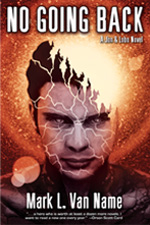 ---

Check out Mark's unusual (and very personal) afterword to the new Baen combined edition of Robert A. Heinlein's The Man Who Sold the Moon and Orphans of the Sky. Now available as a mass market paperback.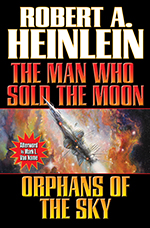 Audible.com has made the entire Jon & Lobo series available as audio books. All of the recordings feature the same fine narrator, Tom Stechschulte, and they're all unabridged—the perfect treats for long trips and lengthy commutes!

NO GOING BACK, the fifth Jon & Lobo novel, hits bookstores and online sites everywhere on May 29th. You can buy it as an ebook right now at www.baenebooks.com.

Baen Books has produced two trailers for the book. Check out both of them here.

Mark decided to extend the charity giveaway program for Children No More to all the editions of the book. To learn more about how this program helps war-affected children, you can read this blog entry or visit the Children No More site.
PRAISE FOR THE JON & LOBO SERIES
One Jump Ahead
"Just when I was thinking science fiction might be over, Mark Van Name proves that there are still smart, exciting, emotional sci-fi stories to be told . . . In Jon Moore, Van Name has created a hero who is worth at least a dozen more novels. I want this to be a series. I want to read a new one every year. More often would be nice."
—Orson Scott Card
". . . a page-turner. . . because Moore's struggle to be an honorable and human person in a brutal universe is genuinely compelling."
—Charlie Jane Anders, io9.com

Slanted Jack
"Van Name's flair for witty dialogue, breakneck pacing and nonstop action . . . . make this high-powered sequel . . . an undeniable page-turner."
—Publishers Weekly

Overthrowing Heaven
"Highly, highly recommended; fun, great heroes, great action, but heartbreak and tragedy too . . ." —Fantasy Book Critic

Children No More
". . . powered by breakneck pacing and military-nuanced action and adventure . . . [a] cerebral—and enriching—
read."
—Publishers Weekly
No Going Back
". . . one of my highly recomended novels of 2012 ."
—Fantasy Book Critic